The Rape and Sexual Assault Compensation Recovery Team at Cohen Cramer Solicitors is headed by Mike Massen.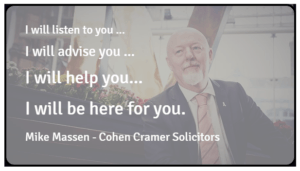 Mike qualified as a solicitor in 1991 and has, since then worked exclusively in the field of Personal Injury.
Over the years Mike has helped thousands of victims to recover compensation following their accidents and incidents.  This dedication to helping people who have been wronged has developed his expertise in sexual assault and rape claims.
A particular case of note was Mike's involvement in the John Worboys' case.  This involved a group action against London Taxi Driver John Worboys who drugged and raped over 50 women and was convicted in 2009.
Mike's main role within our department is to advise at the outset as to a client's options and what can be done to assist. He also ensures that clients are comfortable with the way their claims are to be run and that they fully understand what is likely to happen during the life of their claim.
Married and with two cats, Mike likes to play guitar, brew his own beer and ride his bike.
Why Cohen Cramer Solicitors
With Cohen Cramer as your solicitors, you can be assured that your claim will be dealt with in a confident, confidential, and caring manner.
In addition to our legal skills, we pride ourselves on our approachability and friendly no-nonsense attitude.
You are not just another file to us.  From the outset, you will have our direct line numbers and email addresses, with your calls, emails, and enquiries all given our prompt attention.
To see how we can help you claim the compensation you deserve get in touch with us today:
with us today:
call Mike Massen on 0113 224 7804, we will listen with complete confidentiality and give you the best advice as regards the strength of your claim and how much you may be awarded. We will answer all your questions so that you can decide whether you want to proceed with your application to the CICA or a civil claim either against your attacker or, if possible, against their employer. If you do; we are here for you and we can help.
email us your contact details with as much information as you want to give us and we will call or email you; just let us know what works best for you. Email us at : rasa@cohencramer.co.uk
Your claim can be dealt with on a No Win-No Fee basis so you don't have to worry about the cost of bringing your claim.
Here to help you when you need it most.
For the Quality Legal Service You Deserve.